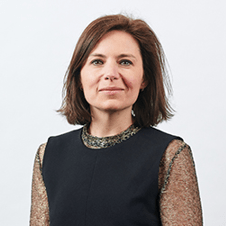 Terri Loska
CEO – Dartmouth Partners
Terri is the CEO at Dartmouth Partners, having played a role in the founding of the business back in 2012. She began her career alongside some of her current colleagues in her first role in recruitment in 2009 before moving to establish the Early Careers team at Dartmouth, which forms the cornerstone of our Classroom to Boardroom business model.
During her years of designing and launching campus hiring programmes for corporate clients she took responsibility for the strategic and operational approach to building large-scale hiring campaigns focused on identifying and engaging with a diverse pool of best-in-class talent. She subsequently took on a broader role, as co-head of London, working alongside team leaders to support and expedite their success, as well as taking responsibility for a number of the firm's internal, strategic functions. As CEO, Terri will lead Dartmouth into its next stage of ambitious growth, driving expansion plans with purpose, and continuing to raise the bar and build a business our clients and teams are proud of.
Terri graduated from The Queen's College, Oxford University with a 2.1 degree in Literae Humaniores. Alongside her current role she balances a young family and an anxious dog.